Blasphemy case: Scot shot in Pakistan jail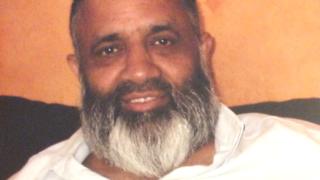 A 70-year-old Scot sentenced to death in Pakistan over blasphemy charges is in hospital after being shot by a prison guard in jail.
Muhammad Asghar, who is from Edinburgh, was arrested in 2010 after writing letters to a number of people claiming to be a prophet.
A court in Rawalpindi convicted him of blasphemy earlier this year.
The attack took place at 08:30 local time inside the Adiala Jail, Rawalpindi, where he was being held.
A Rawalpindi police official told BBC Urdu's Shahzad Malik the gunman who shot the Scot is Mohammad Yousuf, a member of the Elite Force of police commandos.
He said Mr Yousuf walked into Mr Asghar's cell before shooting him.
Prison security, who ran to the scene when they heard the gunshots, were said to have overpowered and disarmed Mr Yousuf.
Mental illness
The extent of Mr Asghar's injuries remain unclear but officials and doctors say he is in a stable condition.
A doctor at the hospital where Mr Asghar was taken told AFP news agency he had "been shot from the back and the bullet has crossed his body affecting his ribs and lungs".
"He is out of danger now," he added.
Another report said at least one bullet had hit Mr Asghar in the arm.
His family and lawyers have said he has a history of mental illness and was sectioned under the mental health act in Edinburgh shortly before travelling to Pakistan.
British politicians and activists have been campaigning for his release, urging the Pakistani government to intervene in his case so he can be treated.
Solicitor Aamer Anwar called on UK Prime Minister David Cameron to ask his Pakistani counterpart, Nawaz Sharif, for Mr Asghar's release.
Mr Anwar, who is acting on behalf of Mr Asghar's family, said: "It is unacceptable that this poor, old, seriously ill man is sat in a prison - presently in a hospital - and is facing death.
"He needs to come home to his family."
Adiala Jail is notorious for being overcrowded with poor conditions.
It is where Mumtaz Qadri, the "celebrated" police guard who killed Punjab Governor Salman Taseer in 2011 is also in custody. Qadri was sentenced to death after confessing to murdering Mr Taseer because he objected to his calls to amend a controversial blasphemy law.
Critics of the law say it can be used to persecute minority faiths and is sometimes exploited for grudges. The assassination divided Pakistan, with many hailing Qadri as a hero.
Mr Asghar was convicted under the blasphemy law in 2010 and filed an appeal in the Lahore High Court in February 2014 against his sentence, but it has yet to be heard. Appeals can take up to five years before they reach the court.
Mr Asghar is now receiving treatment in hospital, but legal charity Reprieve - which is assisting him - remains "deeply concerned" about his security.
Maya Foa, director of the death penalty team at Reprieve said: "This appalling attack shows that the only way to ensure Mr Asghar's safety is to have him returned home to Britain.
"The UK government must redouble its efforts on this front - and as a first step, must urgently ensure that he is moved today to a safe location in Pakistan, until he is well enough to travel.
"Mr Asghar is a vulnerable, 70-year old man suffering from severe mental illness - a fact which has been consistently ignored by the Pakistani courts during his four year ordeal.
"David Cameron said he was 'deeply concerned' about his case earlier this year - but now we must see concrete action to ensure his safety."