Mohammad Asghar: Application filed to prevent jail return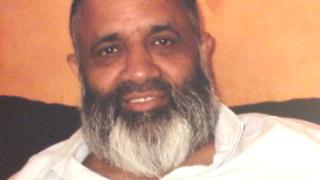 Lawyers acting for Scot Mohammad Asghar have filed an emergency application to keep him in hospital, after reports he will be returned to the Pakistan jail where he was shot by a guard.
Mohammad Asghar suffers from paranoid schizophrenia. He has been in hospital since he was shot in the back on Thursday at Adiala jail in Rawalpindi.
Mr Asghar was sentenced to death in January for blasphemy.
His family's lawyer has also met Scottish First Minister Alex Salmond.
Aamar Anwar has asked Mr Salmond to personally intervene in Mr Ashgar's case.
Lawyers filed an application on Tuesday morning to ensure his safety.
It was revealed on Sunday that Pakistani authorities intended to return the Edinburgh businessman to the prison where he was shot.
His family have asked Prime Minister David Cameron to intervene on Mr Asghar's behalf, but Mr Anwar said they had received no response.
The solicitor met Mr Salmond and Scottish External Affairs Minister Humza Yousaf on Tuesday evening to discuss what help they might offer.
Charity Reprieve has also written to Mr Cameron asking that Mr Asghar be held in a secure facility where he can receive adequate treatment for his injuries and mental health problems.
'Near fatal attack'
The emergency application asks that the court that Mr Asghar be kept in a hospital where he is safer from attack and where he can be treated for his injuries and mental illness.
He is currently in intensive care, suffering from a high fever and a serious chest infection. Doctors have recommended that he be kept in hospital for the next 72 hours.
A prison guard, Mohammad Yousuf, appeared in court in Rawalpindi on Friday accused of the shooting and was remanded in custody.
Maya Foa, director of Reprieve's death penalty team, said that Mr Asghar's mental health had been further affected by the recent attempts on his life.
She said: "Mr Asghar has suffered a near fatal attack at the hands of people who were supposed to protect his security.
"It is unthinkable that [he] should be removed from the hospital - let alone be taken back to the very prison where he was attacked.
"David Cameron must step in and protect the life of this vulnerable British citizen without delay."
The prime minister has previously expressed concern over the case. In a press conference in Edinburgh on Friday, Mr Asghar's family appealed for more help from the British government.
His daughter, Jasmine, said: "Our father is a very mentally ill man... We are begging David Cameron and the whole of the British government to do everything they can to ensure that as soon as he is well enough to travel our father is brought back to the UK where he will be safe.
"Until then, we want him to be kept in a hospital where he will be properly protected and treated."
Mr Asghar moved to Pakistan in 2010.
He was later arrested for writing several letters claiming to be a prophet and was sentenced to death for blasphemy.
Since his sentence, his lawyers and family had regularly warned the authorities of the risk to his life in Adiala prison.
Those accused or convicted of blasphemy in Pakistan are at high risk of attack by religious extremists.