Copper stills arrive at new Fife whisky distillery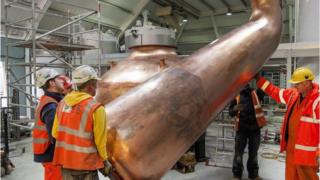 Whisky stills have arrived at a new single malt distillery and visitor centre in the East Neuk of Fife.
The two copper pot stills were hand-made by Forsyths of Rothes and carried to the Kingsbarns Distillery on the back of a lorry.
The three-and-a-half-tonne, 7,500-litre wash still and three-tonne, 4,500-litre spirit still will play a vital role in producing the distillery's whisky.
The facility and visitor centre is set to open on 1 December.
The distillery project has been in the pipeline for six years, but took off last year with the help of a £670,000 Scottish government grant and the support of the Wemyss family, who have lived at nearby Wemyss Castle since the 1300s.
Construction started at the distillery and visitor centre last summer.
Distillery founder and visitor centre manager Douglas Clement said the support of the government and the Wemyss family had "turned this dream into a reality".
He added: "Today is hugely important in the development, with the final pieces of the jigsaw, the copper pot stills, finally positioned in their new home."
The Kingsbarns single malt, which will be classified in the Lowlands region, will be matured for a minimum of three years in oak casks.
Fife-grown malted barley will be used to make the spirit, which will predominantly be matured in former bourbon casks.