Police morale 'affected by speed of change' to single force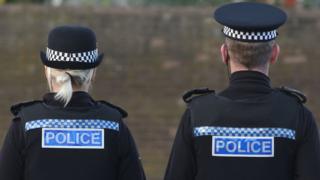 The inspector of constabulary in Scotland has said police morale has been affected by the speed of change to a single national force.
Derek Penman published the first report on local policing since last year's reorganisation of the police service.
The Fife report encourages more local discussion so plans "better reflect communities and council structures".
At the time of the Fife inspection, there had been a rise in reported crimes and detection rates had fallen.
But both were still above the national average.
Mr Penman said: "We were impressed by the local scrutiny provided by elected members from Fife Council over stop and search, which led to the division taking on a national pilot intended to improve practices across Scotland.
"The division faces some challenges and we have identified areas for improvement, with the report containing five recommendations for Police Scotland and three for Fife Division."
'Good relations'
Some of the recommendations relate to working with partners, local authority and community leaders "in the development of the local policing plans".
Police Scotland is also urged to review its staff engagement processes so that employees feel confident to "raise issues for discussion, receive feedback and take part in the change process".
Mr Penman added: "Effective local policing is fundamental to the success of Scottish policing.
"It is the part of policing that interacts with the public on a daily basis and is essential in building good relations with persons, localities and communities in Scotland.
"Local scrutiny and engagement are also essential to its success, through the identification and agreement of local priorities and holding the local commander to account for their delivery."
Ch Supt Garry McEwan, the divisional commander for Fife, welcomed the report, which he said provided an "excellent opportunity for both external scrutiny of our developing procedures and a searching independent insight into whether we are addressing community concerns and meeting local needs."
He said: "The review period covered 2013-14, a time when there was a noticeable increase in private space violence across Fife, specifically relating to domestic abuse.
"However, by implementing a smarter and more coordinated partnership approach to tackling this issue - which has included supporting victims, whilst proactively and robustly tackling offenders - we are now witnessing a reduction in such offences across Fife.
"It is important for any organisation to learn from what it does well but also to identify areas where improvements can be made and to do something about it. Fife division will implement a local improvement plan to introduce the recommended developments - a process that has already begun."