World's End murders: Jury in East Lothian for site visit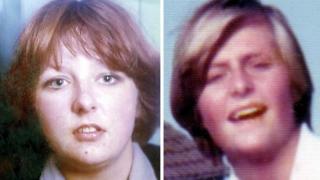 The jury in the World's End murder trial has travelled to East Lothian for a site visit.
Jurors asked for the visit so they could see a number of the places associated with the murders of Helen Scott, 17, and Christine Eadie, 17.
The bodies were found in two separate locations in East Lothian the day after they were last seen in the World's End pub on Edinburgh's High Street.
Angus Sinclair, 69, denies raping and murdering the girls in October 1977.
Judge Lord Matthews told the jury before they left that they were not going there to do their own investigations.
The whole court, including Mr Sinclair, took part in the visit.
Christine's body was found on the afternoon of 16 October 1977 at Gosford Bay in Aberlady, while Helen's body was discovered later that day in a field near Haddington.
The jurors were taken by coach from the High Court in Livingston on a journey of more than an hour to the first stop in East Lothian - the St Germain railway level crossing.
On Wednesday, the court heard that the visit was taking place at the request of the jurors, who wanted to see certain specific sites for themselves.
Addressing the panel earlier, Lord Matthews said they would be able to take notes on the visit but would not be allowed to carry out their own investigations at the sites.
He added that the route taken by the bus to the different areas was of no particular significance.
Sinclair's special defences are incrimination - blaming his brother-in-law Gordon Hamilton, now dead, alibi - saying he was fishing on the banks of the Firth of Forth near Cockenzie power station at the time, and consent to sexual intercourse.
Mr Sinclair is alleged to have gagged the girls, bound their wrists and tied a ligature around their necks.
He denies inflicting blunt force injuries on Ms Eadie by repeatedly punching and kicking her on the body and biting her.
He also denies forcing Ms Scott to walk barefoot into a field, ripping the strap from her handbag, repeatedly punching and kicking her on the head and body and stamping on her head.
And he denies stealing clothing, footwear, jewellery and other personal effects from the teenagers in an attempt to pervert the course of justice.
The trial at the High Court in Livingston continues.