Suspicious fire causes £100,000 damage in Fife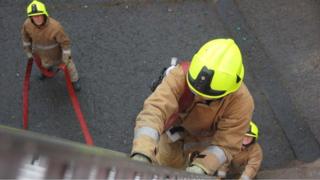 Police have released descriptions of two men they want to speak to over a suspicious fire in Fife that caused £100,000 worth of damage.
Emergency services were called to a garage on Sinclair Avenue in Glenrothes in the early hours of Monday.
The Scottish Fire and Rescue Service attended and the blaze was extinguished.
Police Scotland is now trying to find two men believed to have been in the area at the time.
The men are both in their late teens or early 20s.
The first man is 5ft 8ins to 5ft 10ins. He was wearing dark coloured clothing and a beanie style hat.
The second man is slightly shorter at about 5ft 6ins. He was wearing a waist-length dark jacket and a beanie hat.
Det Sgt Samantha Davidson, of Police Scotland, said: "We have had a good response from members of the public, who have reported seeing two men running from the garage site, prior to the arrival of the fire service.
"It appears that around the same time, a small red hatchback car was seen parked on South Parks, Road, Glenrothes, near its junction with Bilsland Road. The car was sitting unattended with its hazard lights illuminated.
"I do not believe this car is connected with the fire, however the owner may have witnessed the men running from the area. I would be keen to speak to the driver.
"We have also had reports of two females voices being heard in the area of the garage site prior to the fire being discovered. Again, I would be keen to speak with these women in order to eliminate them from our inquiries."