First edition Oor Wullie found in attic auctioned for £5,400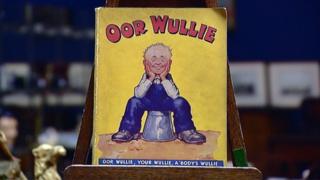 A rare first edition Oor Wullie annual found in a loft has sold for £5,400 at auction.
The 74-year-old book was discovered in a pile of books when the current owners were clearing out the attic at the Edinburgh home of a late relative.
The original annual, following the popular Sunday Post cartoon character, was released in 1940.
A second edition Broons annual was also found. Both went under the hammer at McTear's in Glasgow.
The owners only realised the first edition annual was a collectible when they spotted the date on the front cover.
Drawn by artist Dudley D. Watkins, Wullie made his debut in the "fun section" of the Sunday Post newspaper in March 1936, with the first Christmas annual released in 1940.
McTear's Managing Director Brian Clements said: "Oor Wullie has fans across the globe and we knew that there would be a lot of interest in this very rare edition.
"There were a lot of bids on the night, resulting in a great price for the book. Bidding was also fierce for the Broons second edition with a whopping £3000 secured at the auction.
"Along with The Broons, the Oor Wullie annual remains a must-have Christmas gift with people of all ages enjoying the mischief and wit of Wullie and his pals."