World's End forensic scientist findings 'misguided'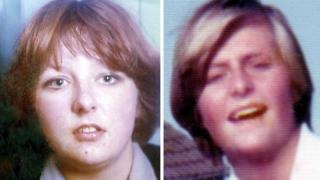 A forensic scientist in the World's End trial has been accused of making are "misguided, unjustified and positively misleading" findings in her report.
Angus Sinclair, 69, denies raping and murdering 17-year-olds Helen Scott and Christine Eadie in October 1977.
He is accused of carrying out the attacks along with his late brother-in-law Gordon Hamilton.
The defence was disputing the findings of Geraldine Davidson during their cross examination.
Ms Scott and Ms Eadie were last seen at the World's End pub in the centre of Edinburgh.
Mr Sinclair said he had consensual sex with the girls and blames his brother-in-law for the teenagers' murders.
'Positively misleading'
The High Court in Livingston has heard six days of evidence from Mrs Davidson. She has talked the jury through DNA samples taken from items of clothing that were used as ligatures to bind and strangle the girls.
She told the court analysis of one of these - the belt from Helen's raincoat that was found around her wrists - suggested the two girls may have still been together when the ligature was tied.
Defence counsel QC Ian Duguid produced a report from scientists commissioned by the defence that did not agree with her findings.
He said: "You are making a conclusion which is misguided, unjustified and positively misleading."
Secondary transfer
The jury has heard a defence report detailing Sinclair's version of events, in which he claims he and Hamilton had consensual sexual intercourse with both girls in a vehicle in Holyrood Park, after which Sinclair left to go fishing.
He claims the girls were "alive and unharmed" when he left their company, and he has lodged three special defences of consent, alibi and incrimination.
Mrs Davidson told the court her report, which concluded that Sinclair had been in contact with "most if not all" of the ligatures in the case, had been written before that information was made available.
Mr Duguid also questioned her assertion that Mr Sinclair had been in contact with the ligatures. He suggested Mr Hamilton could have been the person who transferred Mr Sinclair's DNA on to the pieces of clothing used as ligatures by a secondary transfer.
The defence lawyer then displayed part of a defence report on large screens in the court. It had been prepared, he said, by Mrs Davidson's former boss Terence Randall and his colleague Jacqueline Marshall.
Their report suggested that Mrs Davidson's results in the majority of profiles obtained from her samples had not been suitably robust for them to have provided compelling evidence or to have met the standards required by a Scottish Police Authority forensic lab.
Mrs Davidson emphasised her confidence in her results, the fact they were robust and the importance of disclosing all the evidence found.
Mr Sinclair is alleged to have gagged the girls, bound their wrists and tied a ligature around their necks.
He denies inflicting blunt force injuries on Ms Eadie by repeatedly punching and kicking her on the body and biting her.
He also denies forcing Ms Scott to walk barefoot into a field, ripping the strap from her handbag, repeatedly punching and kicking her on the head and body and stamping on her head.
And he denies stealing clothing, footwear, jewellery and other personal effects from the teenagers in an attempt to pervert the course of justice.
The trial at the High Court in Livingston continues.