Madison Horn death: Bite mark 'linked to murder accused'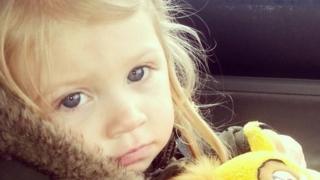 An apparent bite mark on the left thigh of toddler Madison Horn could have been caused by the man accused of murdering her, a dental expert has told a court.
Dr Douglas Sheasby examined two-year-old Madison's body after she died as well as a cast of Kevin Park's teeth.
He told the High Court in Glasgow the mark "was consistent with mild force having been applied".
Mr Park, 27, denies murdering Madison at the family home in Kelty, Fife.
The charge against him includes claims that he shouted at Madison, pulled her hair, lifted the child up and repeatedly struck her head against a wall.
It goes on to allege that he bit the toddler on the body before repeatedly striking her again "by means to the prosecutor unknown".
'Lack of detail'
The court has heard how Madison had a head fracture, extensive internal injuries, bruising to her face and some of her hair pulled out.
Dr Sheasby, a forensic ordontologist at Glasgow University, said he supervised as photographs were taken of the mark on Madison's body and he "examined all the evidence".
When asked about his conclusions, he said: "The mark on the outer surface of the left leg of Madison Horn can be identified as a bite mark, possibly caused by human teeth.
"In my opinion it is possible that the mark on the outer surface of the left leg of Madison Horn was caused by the teeth of Kevin Park."
However, he said that the lack of detail in the mark "limits a valid conclusion about the possibility that the mark was caused by the teeth of Kevin Park".
Under cross examination from defence QC Mark Stewart, Dr Sheasby admitted the only teeth he had examined were those of Mr Park.
Mr Stewart said: "It is possible Kevin Park's teeth could have caused that bite mark but it could have been made by a large number of the population."
'Safe or reliable'
Dr Sheasby replied: "The possibility that someone else's teeth caused this mark exists.
"I'm not able to give information about people whose teeth would cause a similar mark.
"I don't think it would be safe or reliable to give definite conclusions."
The court has heard that Madison was rushed to hospital by ambulance suffering from massive brain and internal injuries. She died hours later in the Victoria Hospital, Kirkcaldy, Fife.
Mr Park told police that she had been jumping on a bed and fell off when it collapsed. At the time, he was Madison's mother Anne-Marie White's boyfriend.
The trial before Judge Michael O'Grady QC continues.