Witness says a bollard that killed a child at the Royal Highland Show was 'unstable'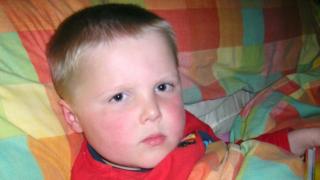 A concrete bollard that killed a child at the Royal Highland Show appeared "unstable", a court has heard.
Three-year-old Ben Craggs died after the post toppled onto him at the Ingliston showground in June 2008.
The Royal Highland and Agricultural Society of Scotland denies eight charges brought under the Health and Safety at Work Act.
Farmer Stephen Crawford told Edinburgh Sheriff Court he thought two large bollards were "unstable".
Mr Crawford said he had parked his lorry in the North Car Park, where the accident occurred.
He told the court: "I noticed the concrete bollards next to me were unstable.
"They were joined by a rope. The rope was not tight. I do know the rope was not tied tightly."
The trial had earlier heard that Ben, from Sedgefield, County Durham, had grabbed hold of the rope after slipping, causing one of the concrete posts to fall on his head.
The boy's father and a security guard lifted the post off the child.
Police Constable Nicola Brown described how she was driving to the scene of the accident when she saw Mr Craggs running towards the police car.
She said Mr Craggs was "so white" and did not look well, adding she put him in the back of the car and continued.
She said paramedics were with the child on the ground.
Later, Constable Brown travelled in the ambulance with Ben to the Royal Hospital for Sick Children and was with Mr and Mrs Craggs when a doctor told them their son was dead.
It is alleged the society failed to ensure moveable concrete bollards at the showground were stabilised by clamping and, as a consequence, Ben fell and seized hold of a rope connecting two of the bollards causing one to overturn and strike him on the head
Other charges allege:
• the society failed to take action about defects in health and safety arrangements which were drawn to its attention by health and safety consultants.
•that it employed a person as a health and safety co-ordinator who did not have sufficient competence or qualifications and did not provide him with training to undertake the job.
•it failed to identify the risks of the bollards overturning, exposing employees of contractors and members of the public to risk of severe injury and death.
The trial before Sheriff Paul Arthurson QC continues.