Mother speaks of heartbreak ahead of East Lothian teen crash memorial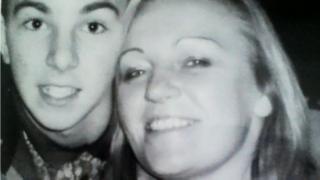 A mother who lost her son in an East Lothian car crash has spoken of her continued heartbreak on the anniversary of his death.
Andrea Kelly, 40, said she missed her son, David Armstrong, 15, so much it was "starting to take its toll" on her.
Ms Kelly spoke as she prepared for a memorial event to mark the crash in Tyninghame on 25 November 2013.
The crash claimed the lives of her son, David, and friends Joshua Stewart, 16, and Jenna Barbour, 18.
In September, Robbie Gemmell, 17, was given a four-year driving ban and 300 hours of unpaid work after he admitted causing the crash by driving without due care and attention at Tyninghame, near Dunbar.
A plaque was due to be unveiled at a special tree during the memorial at St Anne's Church at Dunbar's Westgate. A minute's silence was also due to be held.
Ms Kelly, from Dunbar, told the BBC Scotland news website she was feeling nervous about the memorial event but said the more people who attended, the more it would help her.
She said: "I'm dreading it and I would rather not go because I will find it hard to hold it together.
"I've heard lots of people are going to go though, which really helps because it gives you support and you feel proud they are there for you and the kids.
"Losing my son is a nightmare, you don't want to believe it, and its starting to take its toll because I'm missing him that much.
"I couldn't have wished for a better son, he was a big-hearted boy.
"I keep finding notes to me from him saying 'I love you' and texts."
Ms Kelly also called for tougher laws on young drivers so that other families do not go through the same pain as she has.
She said: "I think the government should increase the driving age to 21. I also don't think you should be allowed to have passengers until you have had your driving licence for three years.
"I also think it's good a lot of insurance companies are now getting speed metres fitted in young people's cars, and say they will only insure young drivers up to a certain time at night."
Her daughter, Gemma, 13, was due to sing and play the guitar at the memorial.
Dunbar Grammar School, which the teenagers attended, held a two-minute silence earlier. It will also hold a special service in the school hall on Wednesday at 18:30.
An East Lothian Council spokeswoman said: "Some of our local councillors and council staff will be attending the event in a personal capacity."