The List magazine to become a free title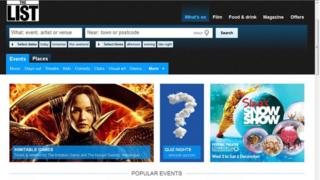 What's on guide, The List, is to become a free title with an increased print run from next year.
The listings and reviews publication will also move from a monthly issue to every two months.
The print run will increase from 18,000 to 25,000 and drop its £2.50 price with costs being covered by an increase in advertising.
The preview and weekly issues during the Edinburgh festival season will continue.
Other print titles including The List's Eating and Drinking Guide, Edinburgh Festival Guide and Guide to Scotland's Festivals will remain unchanged.
The List will also move its focus onto its digital publication with "significant new investment" from two digital entrepreneurs in London alongside further investment from existing shareholders.
A new editor, Yasmin Sulaiman, has also been appointed.
New ways
Simon Dessain, executive director of The List said: "The List made a big commitment to building, firstly, a web business and then to make the further investment to deliver highly functional services for mobile users who at certain times of the day represent over 80% of our audience.
"Today we take the next step in ensuring that The List remains a technology leader that can capitalise on the opportunities in a fast changing landscape."
Ms Sulaiman, said: "Having worked across digital media and arts journalism for the past eight years, I think there is substantial potential for covering the arts in new editorial ways.
"I'm looking forward to rolling out new approaches and content that engages with a wide audience, and am pleased to be joining The List as Editor at such an exciting time."
Robin Hodge, publisher of The List said: "The List was launched in 1985 to celebrate and report on the arts in Scotland.
"We have always encouraged as many people as possible to experience and participate in culture in all its forms and this new investment will enable us to do so for many more people across the UK."
The publication has offices in Edinburgh and Glasgow.