Chief engineer Carlo Germani to leave Forth Crossing project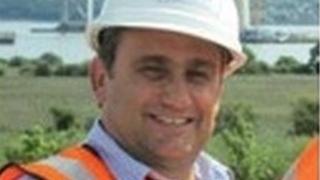 The chief engineer of the Forth Replacement Crossing project is leaving the post for a new job in the Middle East.
Carlo Germani, project director, is to leave in December after three-and-a-half years in the post to work in Qatar.
Officials said they expect to appoint a new project director "in the coming weeks".
The Forth Crossing project is on time and under budget.
The cost of the bridge, which will be called the Queensferry Crossing, will be £50m lower than previously estimated.
The revised budget is down to an upper limit of £1.4bn from £1.45bn. The project is due for completion by the end of 2016.
Healthy state
A Transport Scotland spokesman said: "After three and a half years on the Forth Replacement Crossing (FRC) project, Carlo Germani has informed us that he is to leave his position as Project Director for Forth Crossing Bridge Constructors in December this year.
"Carlo has made a hugely significant contribution to the successful delivery of the FRC project to date and we pay tribute to that contribution as he prepares to move on to new challenges in Qatar. He leaves the project in a very healthy state as we move towards its final two years.
"Arrangements are in place to ensure a smooth transition and our contractors Forth Crossing Bridge Constructors (FCBC) expect to appoint new project director in the coming weeks.
"The project remains on time and under budget."
John Jackson, chairman of the FCBC Board, said: "On behalf of everybody involved in this magnificent project, we thank Carlo for his outstanding contribution. He leaves with the project on schedule and on budget.
"We wish him and his family the very best in the Middle East.".
Mr Germani said: "It has been a privilege to lead the fantastic FCBC team whose combined skills, dedication and pride in the job are making such a success of the Queensferry Crossing project.
"We are building an iconic, 21st century structure - a little bit of history in the making.
"It is immensely satisfying to see the new bridge taking shape day by day and I am sure the team and the project as a whole will go from strength to strength during the rest of the construction programme."