Edinburgh trams: Plans to expand network to Leith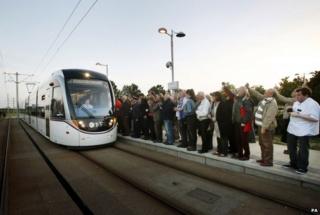 Councillors are set to consider whether the tram network in Edinburgh should be expanded, seven months after the trams began running.
The council is to look at extending the line from the city centre to Leith - part of the original design scrapped when the project ran into trouble.
The line currently stops at York Place in the city centre.
Now councillors are being asked to commission a £400,000 report, examining the implications of extending the line.
If approved, they will consider its findings next spring.
Public transport
Lesley Hinds, Edinburgh City Council's transport leader said: "We need to look forward, if you look at any capital city that's successful in Europe and throughout the world, we need to invest in our local transport and we need to encourage people to walk and to cycle.
"Therefore we are going to have an increased population and more visitors so we need to ensure we have investment in a public transport system and that means looking forward."
The first construction work took place in Leith in 2007.
Edinburgh's tram service began running in May, but only after six years of disruption and a bitter dispute between the city council and its contractor.
The previous Labour-led Scottish government originally earmarked £375m to pay for the tram network, which ended up costing £776m and began running years late.