The Centre and Almondvale Retail Park sold for £224m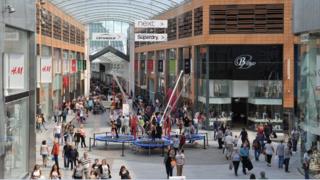 A shopping centre and retail park in West Lothian have been sold for £224m.
The Centre, which is Scotland's second biggest covered shopping complex, and Almondvale Retail Park have been bought by HSBC Alternative Investments.
The site is home to about 160 retailers, including Primark, Debenhams, ASDA and BHS.
Together they make up almost 1.2 million square feet of retail space. The Livingston site was sold by its owners Land Securities.
Land Securities were advised by the UK retail investment team at Colliers International.
Scott Parsons, managing director of Retail at Land Securities, said: "The sale follows a number of recent transactions demonstrating our clear commitment to reshaping our shopping centre portfolio to focus on dominant regional and Greater London assets."
Land Securities is the UK's largest listed commercial property company, owning and managing more than 25 million square feet of property, from shopping centres to offices, valued in excess of £13.2bn.