Man tried to lead girl, 12, away from West Lothian school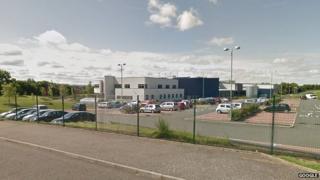 A man who tried to lead a 12-year-old girl away while she was waiting outside a West Lothian school for her parents is being sought by police.
The incident happened at 21:20 on Tuesday outside Deans High School in Livingston.
The man made no attempt to force the girl away or follow her and police said he may simply have been drunk.
However, they are urging carers to ensure children have good transport arrangements home from festive events.
The man was white, in his early 30s, and of medium build with brown hair.
He had chapped lips and sores on the corner of his mouth and was wearing a black 'Adidas' hooded jacket, grey jogging bottoms, black 'Nike' trainers, possibly Air Max type.
He had a local accent and was smelling of alcohol at the time.
Det Con Stevie Telford, of Police Scotland, said: "Fortunately, this man made no attempt to force the girl away, and did not pursue her when she moved away from him, and it is possible he was simply drunk and not fully aware of what he was doing.
"It is important, however, that we trace and speak to him as soon as possible, and that parents and guardian put robust transport arrangements in place to ensure children do not come to any harm while waiting to be picked up."