'Successful year' for John Muir Way walking route in Scotland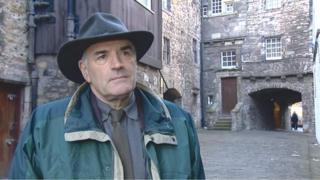 The long-distance walking route, the John Muir Way, has had a successful first year, according to its backers.
The news comes on the centenary of the death of the Scots-born naturalist, who helped establish America's national parks.
John Muir spent his early years in Dunbar, East Lothian, but left Scotland for the United States when he was only 11 years old.
Historians say his love of the natural world was already developed by then.
Muir went on to become one of the most influential figures in the history of the environmental movement and a national hero in the US.
Walkers tackling the whole of the John Muir Way cover 134 miles, with their journey taking them across central Scotland.
The route officially begins in Helensburgh on the west coast, from where Muir set sail for America, and continues to Falkirk, Linlithgow, and Edinburgh, before ending at the naturalist's birthplace in Dunbar.
Keith Geddes, chairman of the Central Scotland Green Network, told BBC Scotland: "There's been something like 35,000 individuals using the John Muir Way website and most of them have been downloading maps for walking the route.
"There's been a 25% increase in footfall at the John Muir Birthplace museum in Dunbar, with a 40% increase in sales too, so there's evidence that it's starting to take off."
Mr Geddes played a key role in bringing plans for the John Muir Way to completion.
The route was officially opened by the former First Minister, Alex Salmond, at a ceremony in Dunbar on Easter Monday.
Since then, it has attracted world-wide media interest, according to Mr Geddes.
He said: "The other great thing is we have had massive coverage in the United States, with a big special in the San Francisco Chronicle travel section, coverage in the Wall Street Journal, and other coverage right across the world."
Enduring legacy
Stuart Brooks, chief executive of the John Muir Trust said Muir's ideas on conservation continue to "resonate down through the generations".
He said: "Today, the trust is part of a great worldwide movement s towards, 'rewilding.'
"That involves working with to bring back, fragment by fragment, that lost tapestry of Scots pine, birch, aspen, rowan, oak, alder and hazel that once draped itself across Scotland's now bare landscapes."
Meanwhile, the Scottish Campaign for National Parks (SCNP) and the Association for the Protection of Rural Scotland have called on the Scottish government to honour his memory by creating more national parks.
Ross Anderson, the chairman of SCNP, said: "As a nation, we are currently near the bottom of the world league in terms of our number of national parks.
"This is unfinished business in Scotland, so we have published a well-argued strategy for seven more national parks to join the two existing ones covering the Cairngorms and Loch Lomond and the Trossachs."