C. difficile at Edinburgh Royal Infirmary: No new cases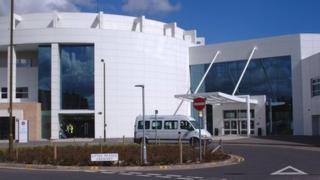 Infection control experts investigating a cluster of C. difficile at the Royal Infirmary of Edinburgh have not identified any new cases.
NHS Lothian said on Thursday that two patients had died of underlying conditions after testing positive for the infection.
A further 12 patients are affected, with two said to be "very unwell".
The health board does not expect to know until January if the cases are linked.
Since the cluster was identified in early November, four patients have recovered and been discharged home.
The eight patients, who remain in hospital, are being cared for in isolation.
NHS Lothian said two of them were very unwell, but the severity of their conditions was not as a result of C. difficile.
The five affected wards remain open.
Melanie Johnson, executive nurse director, said: "Investigations are ongoing to establish if there is a link between the cases, but we always act as if cases are linked and implement action to prevent cross transmission.
"Our robust surveillance procedures meant that we were able to identify these cases quickly and take the appropriate action."