Strike may close National Museum of Scotland on Boxing Day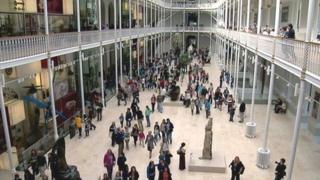 The National Museum of Scotland in Edinburgh may be closed on Boxing Day due to industrial action.
The Public and Commercial Services union has confirmed its members will be holding a strike at the Chambers Street visitor attraction on Friday.
The union said the move was an attempt to get museum management to reverse its decision to remove weekend working allowances for staff.
The museum said it may have sufficient staff to open despite the strike.
The museum would normally open from 12:00 until 17:00 on Boxing Day.
The dispute has been running for a year.
Lynn Henderson, PCS Scottish secretary, said: "We are extremely disappointed that talks have yet again broken down without agreement.
"Management had an opportunity to avoid these strikes but failed to offer a solution to a problem that they made by taking up to £3,000 a year from their lowest paid staff.
"Museum management have proved to be intransigent throughout the process and have proved that they are incapable of sorting this.
"Our members are now forced to take strike action again and have indicated that their resolve is as strong today as it was a year ago."
A National Museum of Scotland spokeswoman said: "PCS members have voted for strike action on Boxing Day, however we will not know for certain until the day if we will have sufficient staff to keep the museum open.
"It is regrettable that the PCS has chosen to take this action, impacting on planned Christmas holiday visits by children and their parents and the large number of UK and international tourists who visit our museum."