New plans for Edinburgh Marina are submitted to Edinburgh City Council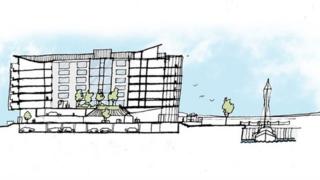 A masterplan for Edinburgh Marina - a 400-berth marina, residential, retail and spa hotel development for Granton Harbour - has been submitted.
The Edinburgh Marina development will deliver new homes for over 4,000 residents as well as local employment opportunities for up to 700 people.
There will also be a larger community boatyard and improved facilities for local yacht clubs.
Changes to the design have been made since it was approved last year.
The residential area of the development remains virtually unchanged from the previously approved plans, but now has more family-sized houses for rent.
The total area of the proposed new retail and leisure space remains unchanged from that approved in January 2014 - 9220 sq m and 4220 sq m respectively.
However, the layout has now been redesigned to have a centre to the retail, commercial and leisure space, easily accessible to both residents and visitors.
The revised scheme also makes provision for the extension of the tram service and a potential fast link ferry service to and from Kirkcaldy, as well as facilities to accommodate cruise ship tenders.
A spokesman for the developers, Granton Central Developments Limited, said: "We are very pleased with the way in which our development plans have been supported by the local community and we look forward to starting work on this exciting project in 2015.
"We hope that Edinburgh Marina will soon be not just a gateway to Edinburgh, but a focal point of an exciting and energetic new community."