Corstorphine Hill killer James Dunleavy sent to prison for nine years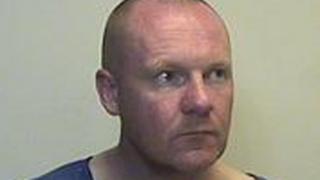 A man who killed his mother before burying her dismembered body in a shallow grave in Edinburgh has been jailed for nine years.
James Dunleavy, 41, killed 66-year-old Philomena Dunleavy, following a row at his flat in Edinburgh in spring 2013.
Dunleavy was convicted of culpable homicide due to diminished responsibility at the High Court in Edinburgh in January 2014.
He beat and strangled her before cutting off her head and legs.
Her remains were found on a clearing on Edinburgh's Corstorphine Hill by a cyclist.
Judge Lord Jones had sent the labourer, who originally comes from Dublin, to the state hospital in Carstairs, Lanarkshire, in order for his mental health to be assessed by psychiatrists.
On Wednesday, the judge ordered Dunleavy to serve his time in a conventional prison.
He made his decision after hearing evidence that Dunleavy was a psychopath who killed his mother because he suspected she was a "reptile".
He wanted to look inside her to see if she was impersonating a human.
But medics concluded Dunleavy was suitable to serve his sentence in a normal jail.
Passing sentence, Lord Jones also ordered Dunleavy be supervised by the authorities for nine years following his release from prison.
He added: "I will impose an extended sentence of 18 years. The custodial element will be nine years."
Mrs Dunleavy, from Marino, Dublin, had been visiting her son in the days leading up to the fatal attack. He had been working on the Edinburgh trams project.
Her remains were discovered in early June 2013 by skiing instructor Aaron McLean-Foreman who was cycling on the hill.
On leaving court, Dunleavy's father, Seamus told reporters that he was glad his son was being sent to prison.
But he said that he was convinced that his son was not responsible for ending his late wife's life.
"He's innocent," he said.