Woman dies after fire at Edinburgh's Western General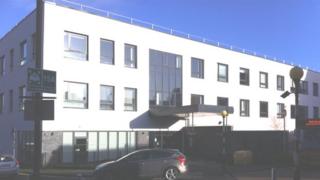 A woman has died after a fire at the Western General Hospital in Edinburgh.
Crews were called to the scene after the blaze broke out in the Royal Victoria building at about 02:28.
Firefighters helped move fourteen patients from the affected ward to another part of the complex.
Police said that a 75-year-old woman died as a result of the blaze. A joint investigation with the fire service will be carried out.
The building where the fire happened specialises in treating the elderly. An automatic fire alarm call was received by the Scottish Fire and Rescue Service.
'Quick' response
Two firefighters wearing breathing apparatus entered the ground floor ward and put out a small blaze. They were unable to save the elderly woman who died at the scene.
No one else was injured. The cause of the fire is as yet unknown. However, the fire is not thought to have been started by faulty equipment.
A Police Scotland spokesman said: "Investigations are at an early stage following the death of a 75-year-old woman at the Western General Hospital.
"Officers attended after reports were received of a small fire in a room in one of the wards."
Melanie Johnson, NHS Lothian's director of unscheduled care, said: "We can confirm a fire occurred in part of one ward at the Royal Victoria Building during the course of the night.
"Sadly a female patient has died and our thoughts are with her family at this time. We are assisting emergencies services with their investigations.
"Staff responded quickly and followed well rehearsed protocols."
She added: "A small number of patients were transferred temporarily to an adjoining ward before returning after around an hour."