Edinburgh's Radisson Blu Hotel sells for more than £59m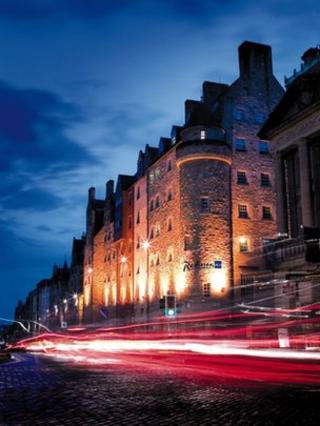 A four-star hotel in Edinburgh has been sold for more than its asking price of £59m.
Radisson Blu Hotel on the Royal Mile has 238 bedrooms, a restaurant, bar, conference and leisure facilities.
It was sold to a German investor for an undisclosed price in the largest hotel transaction in Scotland since 2007.
Manchester's Park Inn by Radisson, marketed for sale with the Radisson Blu Hotel earlier this year, was sold to UK investor The Ability Group.
CBRE and JLL were appointed to dispose of the Radisson Blu Hotel in Edinburgh and Park Inn by Radisson in Manchester City Centre earlier this year.
The properties were brought to market with asking prices of £59m and £20m, respectively.
Kerr Young, director of hotels and hospitality for JLL, said: "The Radisson Blu in Edinburgh offers not only a secure income stream with great covenant strength, but also prime real estate in Scotland's historic capital - one of the most sought after hotel markets in Europe.
"Since the hotel went up for sale, alongside the Park Inn by Radisson in Manchester, we have received a huge amount of interest, underlining the appetite from investors in today's market."
Paul Collins of CBRE Hotels said: "The hotels are fantastic assets for WestInvest and The Ability Group, and we are certain that the current buoyant investment market will continue into 2015 as disappointed investors seek alternative opportunities."