Cleanliness 'concerns' at Western General in Edinburgh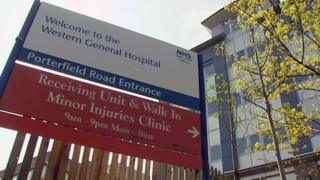 The standard of hygiene at a hospital in Edinburgh has got worse since 2013, according to a watchdog.
The Healthcare Environment Inspectorate (HEI) carried out unannounced visits to the Western General in November.
Inspectors found wards were overcrowded, hand gels had been removed, and macerators used to dispose of human waste were not working.
They issued eight requirements for the hospital to address - twice as many as during a previous inspection in 2013.
The HEI was created by the Scottish government to improve cleanliness in Scottish hospitals.
Its inspectors visited the Western General on 18 and 19 November last year.
They raised "significant concerns" with senior management at NHS Lothian "about the cleanliness of patient equipment and environmental cleanliness".
Inspectors also highlighted the lack of working macerators (which break down human waste) on two wards and raised concerns about the procedures in place to reduce the risk of cross-infection to patients, staff and visitors.
Inspectors requested "immediate action" be taken on these issues and an improvement action plan produced to show how these issues would be rectified.
They also raised the fact that alcohol-based hand gels were not always available or readily accessible at patient bedsides and wash hand basins on some wards were not compliant with the required standards.
In some wards, inspectors found dust on both high and low level areas while there was mould around a shower surround in one ward along with mould on shower heads in another.
Of 29 bedframes and handrails that were inspected, 22 were found to be contaminated - with one of these in a room that was being readied to care for a patient with viral haemorrhagic fever in the regional infectious diseases unit.
A total of 16 of the 18 patient armchairs that were looked at were contaminated while 16 out of 21 commodes or toilet seats were contaminated with faeces, blood or body fluids.
Meanwhile, of 18 mattress covers inspected, seven were contaminated.
Action plan
An HEI team returned to the hospital to carry out an unannounced inspection just over a week later and found "the standard of cleanliness of the patient environment and patient equipment had improved".
But the inspectors said there were still a "few minor exceptions to this".
Susan Brimelow, HEI chief inspector, said: "We returned unannounced on Thursday 27 November 2014 to assess progress against the improvement action plan and found that significant improvements had been made.
"NHS Lothian must address the requirements and make the necessary improvements as a matter of priority."
Melanie Johnson, executive nurse director at NHS Lothian, said staff had acted on the inspectors' findings as "a matter of urgency".
She stated: "We recognise that some standards were below those we would expect and I apologise to any patients who may have been affected. I would also like to reassure them that those areas have been rectified.
"Since the first of the visits in November, immediate changes were put in place to address all areas that were singled out for improvement.
"A detailed action plan was drawn up and all points have been completed. Many of these significant improvements were proven during the subsequent unannounced visit by inspectors as is detailed in the report."
Health Secretary Shona Robison said the report was "extremely disappointing" and showed that "standards have fallen well short of what the public and patients expect".
"The inspectors have uncovered simply unacceptable levels of cleanliness and infection control in certain wards, and I will be meeting the chair of NHS Lothian to reiterate my desire to see standards immediately improve," she said.
"The improvement plan in place must be delivered urgently."
She added: "This report demonstrates we must go on driving up standards. That is why, when I meet with the chairs of all health boards, I will reinforce to all of them the importance I attach to these inspections and the findings that arise from them."