Queensferry Crossing: Main towers reach halfway point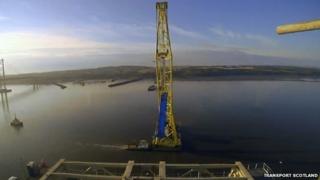 Construction of the Queensferry Crossing over the Forth has reached a key milestone.
The three main towers of the new bridge now stand at more than 105m - just over half of their final height of 210m.
About 10% of the bridge deck is also in place.
Transport Scotland has said average speed cameras will be introduced on the existing Forth Road Bridge from the spring as part of traffic management plans as the project moves forward.
Infrastructure Secretary Keith Brown said the new crossing remained on schedule and under budget.
It is expected to cost between £1.35bn and £1.4bn and is due to open late next year.
David Climie, project director with Transport Scotland, told BBC Scotland it was an "exciting time" in the construction work.
"The towers themselves will get up to their full height by the summer," he said.
"It will become very visual now in terms of what the public can see and in terms of the Queensferry Crossing itself starting to really take shape."
Mr Climie said average speed cameras would be needed on the Forth Road Bridge as preparations were made on surrounding roads for the new crossing.
He added: "From the spring this year we will be introducing average speed cameras from the south end of the Forth Road Bridge right through to the Admiralty junction on the M90.
"That will have a 40mph average speed limit, really just to control traffic through that period of extensive roadworks.
"I should emphasise that there will still be two lanes of traffic in each direction on the bridge until the opening of the replacement Forth crossing."