Morningside murder: Pensioner found 'covered in blood'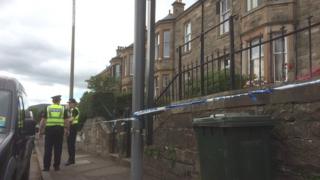 A husband has told a murder trial how he found his 85-year-old wife lying on the floor covered in blood when he returned to their home in Edinburgh.
Robert Whitelaw, 88, was giving evidence at the trial of 24-year-old Robert Buczek.
Mr Buczek denies murdering Eleanor Whitelaw at her home in Morningside Grove on 11 July last year.
He has been charged with striking her repeatedly on the neck and body with a pair of scissors.
He is also accused of inflicting blunt force trauma on Ms Whitelaw's head and body by means unknown.
The pensioner died in hospital 17 days later.
Mr Whitelaw, a retired chartered civil engineer, told the jury he had gone shopping and returned home after 16:00.
He said he was surprised when he could not get into the front door as it was locked so he went round to the unlocked back door, and walked through the kitchen into the morning room where he found his wife.
He said: "I saw my wife lying on the floor covered in blood.
"I took a cushion and put it under her head because I thought she had fainted after having a nose bleed."
Mr Whitelaw added: "When I put the cushion down I realised it was more serious. I realised she had a cut to the side of her neck. I called for the ambulance service straight away. I didn't go far in the hall because it was full of blood."
Mr Whitelaw was asked by advocate depute Alex Prentice QC if he had noticed anything unusual before his wife was injured.
He said "Just two days before I saw a young man at the bus stop. He was looking at the house and looking at us. It attracted my attention."
A woman, who lived round the corner from the Whitelaw's home told the court she saw a man in his 20s running from the direction of their home on the afternoon of 11 July 2014, carrying a black plastic bag.
Janice Robertson, 51, said she and her daughter were sitting out in their front garden from 15:00 onwards.
She said: "I heard the sound of footsteps. It wasn't jogging it was fast running. The area was quiet and there was no traffic."
Mrs Robertson told the jury she saw the man for about three seconds and added: "When I told my husband about it that night. I said he could have been eastern European, possibly something to do with the bone structure."
The court heard that she went on holiday the next day, but after hearing about an incident in Morningside Grove contacted the police.
In court Mrs Robertson identified the accused as the man she saw running that afternoon.
However, under cross examination by defence QC Brian McConnachie she said she had not identified Mr Buczek at a police line-up.
The court also heard from a librarian who told the jury she saw a young man and an elderly woman talking in the front garden of 30 Morningside Grove at about 15:30 on 11 July.
Water bottle
Sara Brown, 38, said she was standing at the bus stop and overheard snippets of conversation between an elderly woman and a man in his early to mid 20s.
She said: "I only heard the woman. She said 'I'm sorry I can only give you water, but my husband will be back shortly with some biscuits.'
"Later I heard her say: 'Are you English'."
Mrs Brown told the court that the man was drinking from a bottle of water during the conversation.
She was shown a water bottle found in the hallway of the Whitelaw's home and said the bottle he was drinking from "could have been like that."
The jury was also shown a photograph of Mrs Whitelaw while she was undergoing treatment in hospital and heard from a paramedic who attended the scene.
Robert Buczek denies all the charges against him.
The trial, before Lord Matthews, continues.