Judge sums up in Eleanor Whitelaw murder trial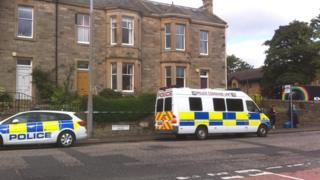 A judge has told the jury of a murder trial that sympathy for the victim or the accused should play no part in its deliberations.
Robert Buczek, 24, denies murdering 85-year-old Eleanor Whitelaw with a pair of scissors at her home in Morningside, Edinburgh, on 11 July last year.
Forensic experts found DNA matching Mr Buczek's on a pair of bloodstained scissors and a water bottle.
But Polish national Mr Buczek told the jury he had never been to the house.
On Thursday he told the High Court in Glasgow he had been working as a labourer in a house around the corner in Craiglea Place and said he had been there on 11 July for about 30 minutes to collect wages.
He told the jury he had "no idea" how a pair of scissors and a bottle with his DNA on them were found in the house.
"I've never been there in my life and I never attacked that woman in her house," he said. "I've never in my life hurt a woman."
Mr Buczek is alleged to have stabbed Eleanor Whitelaw - known as Norah - in the neck with the scissors and stolen stamps and a box containing spoons.
She was discovered lying in a pool of blood by her 88-year-old husband. She died in hospital 17 days later.
In his closing speech, prosecutor Alex Prentice QC said the killing had been a theft which went wrong and Buczek grabbed scissors lying in the hallway and attacked her.
He said there was a compelling circumstantial case against Mr Buczek.
'Rag doll'
"A man called at the door and spoke to Mrs Whitelaw. Something occurred which made that encounter violent, perhaps she tried to get him out of her house.
"The man picked up a pair of scissors and stabbed her in the neck possibly as many as seven times and that caused her to fall.
"That man then dragged her like a rag doll through her hallway, then he dumped her in a room and left her fighting for her life."
Mr Prentice told the jury that man then wandered round the house looking for items to steal and took stamps and a box containing spoons before leaving the house.
The prosecutor said: "The man who did all that is Robert Buczek and I ask you to convict him of murder."
He added: "I don't suggest that when Robert Buczek went to the house he intended to kill. He didn't have a weapon with him. His intention was theft perhaps, targeting a vulnerable, elderly person.
"Why was it necessary for him to kill, perhaps, we will never know. But the dead never make good eye witnesses."
'Flawed' case
Mr Prentice told the jury that Mr Buczek's DNA was found in the house and he was seen running away by a neighbour who identified him to police.
He said the accused also tried to sell the stamps and when he discovered they were worthless threw them away near where he stayed at Martello Court in Edinburgh.
Mr Prentice said Mr Buczek was caught because he was "careless".
Defence QC Brian McConnachie told the jury that DNA was "not the golden ticket' which solved crimes as shown on television and films.
He said: "The finding of DNA in a place is not evidence the person was ever there."
He described the Crown case as: "Like a cable which is flawed and with the slightest pull flaws will appear."
The defence QC accused the Crown of focusing on the DNA that suited them and ignoring DNA that did not.
He added: "There was the DNA of an unknown man on the inner right thigh of this 85-year-old woman when she was examined in hospital on July 11, 2014. The prosecutor says this could have been a member of medical staff treating her without gloves."
"She also had three injuries to an area of her private parts. The learned advocate depute asked a pathologist if these could have been as the result of a fall. What kind of fall would you need to have to cause an 85-year-old woman these injuries?"
He told the jury: "Unless your are satisfied beyond a reasonable doubt the verdict you return should be a verdict that acquits the accused."
Charging the jury, Judge Lord Matthews said: "Sympathy for the accused or for the deceased and her family must play no part in your deliberations.
"An 85-year-old lady has met her death in her own home and that is very sad, but that must pay no part in your assessment of the evidence.
"You can only convict if the Crown has proved its case to the high standard required. The principal issue is whether the Crown has proved the accused committed this offence."
He will finish his charge on Monday when the jury is expected to retire to consider its verdict.