Edinburgh bin lorry driver was asleep at wheel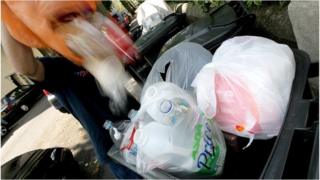 A bin lorry driver has been sacked after falling asleep at the wheel and veering across a road in Edinburgh.
The accident happened in Lanark Road on 20 January. No one was hurt.
The Unite union said it was deeply concerned at the spate of incidents involving agency staff working in Edinburgh's refuse services.
The council said any agency drivers employed were fully qualified to carry out the job they were required to do.
Licence checks
City of Edinburgh Council's Transport and Environment Convener, Lesley Hinds, said "immediate action" had been taken to dismiss the driver over his "unacceptable behaviour".
She added: "As a council we do not want to rely on the use of agency staff and aim to contract the minimum number agency workers only in extreme circumstances, such as in the instance of illness or unexpected absence.
"Over the last six months the council has significantly reduced the number of agency staff working within its refuse service by more than 50 to just 12, most of whom are covering absences.
"It is our aim to ensure the best possible terms and conditions for staff and as such have been working to sign all employees up to temporary contracts rather than using agencies. As part of this we have been training some existing staff to drive vehicles which are lower weight than the normal refuse collection vehicles, increasing our pool of drivers.
"Having said that we expect the utmost professionalism and care from all of our refuse service staff, regardless of whether they are agency or permanent, and in this instance of unacceptable behaviour immediate action was taken to dismiss the individual."
Mary Alexander, deputy regional secretary for Unite, said: "We've been raising our concerns with Edinburgh city council for some time now about the increase use of agency workers and temporary workers.
"We are very concerned about the situation.
"We know the council isn't putting in adequate safeguards or training agency and temporary staff to the level their workforce in refuse collection services is trained, so that is very concerning for us."
A spokesman for Adecco, which provides the agency workers, said: "We are aware of an incident involving an Edinburgh council worker, and are co-operating with the appropriate authorities.
"Mandatory checks are conducted on all candidates, as well as ensuring that they are suitably qualified for the role."