Teen sentenced for Gilmerton Primary school BB gun shootings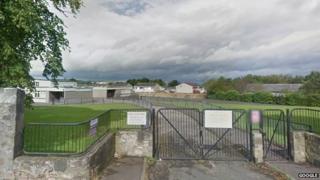 A teenager sniper who shot eight school pupils in Edinburgh with a BB gun has been ordered to carry out 200 hours of community work.
Jack Hewitt admitted firing the gun from the bathroom of his home at children in the playground of Gilmerton Primary.
Hewitt, who was 17 at the time of the incident, said he was "letting off steam" while studying for his Highers.
The former George Watson's College pupil is now 18 years old.
He previously pled guilty at Edinburgh Sheriff Court to culpably and recklessly discharging a firearm. The incident happened on 30 May 2013.
Red marks
The court heard teachers were puzzled when children began complaining about being hit by something.
When they found BB pellets on the ground they contacted the police and Hewitt was traced.
All of the children were in P4 or P5. One girl was struck on the forehead, another just below the eye, and others had red marks and bruising on their arms, legs and stomach.
Sentence on Hewitt had previously been deferred to allow him to be of good behaviour.
The court was told he had not re-offended since the shooting incident.