Diving boat boss Guthrie Melville guilty of safety failing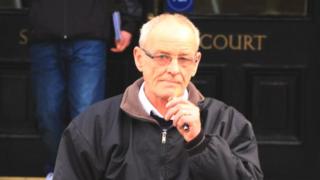 The owner of a shellfish boat has been found guilty of safety failings that led to the death of a diver in the Firth of Forth.
James Irvine, 42, from Glenrothes in Fife, died in March 2011 while fishing for razor clams off the support vessel Solstice in Largo Bay.
He was found by a police diver lying face up on the seabed with neither of his air supply regulators in his mouth.
Solstice owner Guthrie Melville was found responsible for safety failings.
The 60-year-old was found guilty at Stirling Sheriff Court and sentence was deferred for reports.
The Solstice was thought to have been using an unapproved technique to make the razorfish rise to the surface of the sandy bottom by trailing unprotected copper electrodes connected to an electric welder.
An expert said the set-up posed a risk of serious injury, only a few milliamps could have stopped a diver's heart.
Prosecutor Louise Beattie said Mr Irvine was left "truly on his own", eight metres down in the Forth.
She said Melville had no second diver on standby to rescue Mr Irvine, no means of communicating with him, and no means of getting him from the water on to the boat in an emergency.
He had also failed to ensure that Mr Irvine was wearing an inflatable jacket, known as a "buoyancy control device" which he could have used to get to the surface quickly, and he had no lifeline.
At the end of a five-day trial, jurors took just two hours to find Melville guilty, by a majority, of a string of breaches of diving at work and Health and Safety regulations.
Melville was also found guilty of putting five other divers at risk through similar failings over a six year period between April 2005 and the date of the tragedy.
Outside court, Mr Irvine wife Hazel said Melville deserved prison.
She said: "We are just pleased with the guilty verdict and we really hope he goes to jail."
Mr Irvine's daughter Chloe, 18, said: "He failed to protect five other men, so if this hadn't happened to my dad, sooner or later it would have happened to someone else."