Investigation after 102 incidents at trampoline park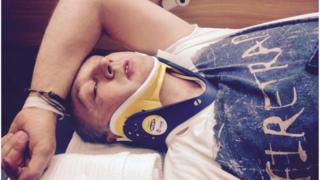 Council health and safety inspectors are investigating a new trampoline park following more than 100 incidents at the Midlothian centre in three weeks.
Ryze in Mayfield Industrial Estate in Dalkeith opened a 10,000 sq ft park on 23 January.
Since then there have been reports of accidents including a broken neck, back and other bones.
Ryze said the accident figure was "better than the industry norm" and there had been seven serious injuries.
Case Lawrence, Ryze chief executive, said it was "very important" to put into context they had had 25,662 jumpers over the three week period and 102 incidents in that time was only a 0.39% incident rate.
However, some parents are now warning people about the dangers at the centre.
Flipping motion
Claire McKenna, 39, from Bonnyrigg who is seven-months pregnant, told the BBC Scotland news website the first aid was "non-existent" when her husband, Christopher McKenna, 49, broke his neck at the park on Saturday 7 February.
She said: "My husband was only just on the trampoline when he jumped and realised he was so high he wouldn't be able to land on his feet so he landed on his bottom.
"However, because it was so springy his legs flew over his head in a flipping motion and his head caught under his body.
"He was lying motionless and face down on the trampoline and two young boys who work there lifted him and moved him off the trampoline. This was where alarm bells were ringing for me because you should never move anyone with a neck injury.
"Twenty minutes later I was still arguing with the boy to call an ambulance but he was just interested in filling in an accident form and kept saying for me to drive him to the hospital as the ambulance wouldn't know where to come because it's a new centre.
"He didn't cordon off the area and was just asking people not to bounce near my husband.
"The doctors at the hospital said he was lucky not to be paralysed as he should not have been moved."
'Complete disaster'
Her husband, who is self employed so is now not earning money, will find out if he has to undergo an operation to have a metal plate inserted into his neck in two weeks time.
Mrs McKenna said he is currently in bed on morphine, unable to move, and in "agony".
Erik Haugen, of Ryze, said the description of the events surrounding Mr McKenna's injuries was "not accurate".
"When the shift manager approached Christopher he had already gotten himself up and wanted to get off of the trampolines and go sit down," he said.
"The shift manager recommended that he not move, but the individual on his own accord moved."
After hearing about Mr McKenna's story, Laura Bruce-Wootton told the BBC Scotland news website that she broke her back at the centre on 31 January.
She said the manager was not there when she was asked to get up by other male staff: "I was moved and made to give details for an incident report before they called an ambulance, despite being in writhing pain and unable to sit or stand.
"I went unconscious after breaking my back and had a fit despite not being epileptic.
"I should have been left lying down where I was until an ambulance arrived."
Mr Haugen said that the park's manager had dealt with Ms Bruce-Wotton's incident directly.
"When she approached Laura, Laura had already stood up and was walking, with her boyfriend escorting her by the arm.
"The manager told her that she should not move any further. She moved on her own accord."
'Complete disaster'
Marion Dickie, 35, from Edinburgh, said her two-year-old son Anderson sustained a bad break below the knee at the centre on Monday.
She said: "I would never go back to the centre, it was a complete disaster for us.
"The first aid and advice needs to be upped and all the boy was interested in was taking his name and date of birth for his accident report rather than dealing with his injury.
"They didn't even have a proper ice pack and instead gave us a food bag full of sharp ice, it was ridiculous."
Mr Lawrence, from Ryze, said: "This injury incident rate is right in line with what we see in the US and what we would expect here.
"It is actually better than the industry norms and we always see the incident rate decline after the first few months as the novelty wears off and people become more familiar with the rules and, frankly as our staff gain more experience and training."
Visited premises
He added: "We do all we can to make the park as safe as possible. Each of our parks, including Ryze Edinburgh, is built according to ASTM standards, which is the best standards and practices established for running trampoline parks by the industry in the US.
"We have never had an injury that was caused by the equipment or layout of the park. Like other active pursuits, injuries come from landing awkwardly, or interacting with another jumper."
A spokeswoman for Midlothian Council said: "Once we became aware that this business was operating, our inspections visited the premises on 6 February and gave advice on the company's health and safety obligations.
"So far, we've received no reports of accidents at Ryze Ultimate Trampoline Park.
"However, having been made aware of a number of allegations of injuries, we have visited the premises and our inquiries are ongoing."