Firefighters tackle high rise flats blaze in Edinburgh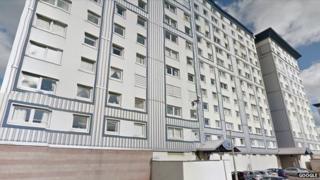 More than 30 firefighters have been tackling a fire at a high rise block of flats in Edinburgh.
One man was taken to hospital as a result of the blaze in the west of the capital.
Crews were called to the fire on the 12th floor of Cobbinshaw House North in Calder Gardens at 20:45 on Monday.
On arrival, an extra pump and a command support unit were requested, taking the total number of firefighters involved in the operation to about 36.
They used breathing equipment and a line of hose to tackle the flames, the Scottish Fire and Rescue Service confirmed.
A spokeswoman said one man went to Edinburgh Royal Infirmary while another was treated at the scene, both for smoke inhalation.