Trampoline park Ryze closes over licence issue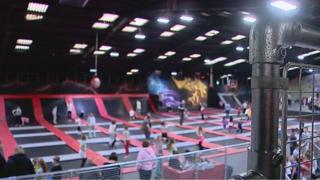 A newly-opened trampoline park which had more than 100 incidents in three weeks has closed after it was found to be operating without a licence.
Midlothian Council has served an improvement notice on Ryze in Dalkeith to address "public safety concerns".
The company has been given 21 days to comply with the notice.
A spokesman for Ryze said: "A voluntary agreement has been reached with the council to suspend trading until licence issues are resolved."
The spokesman added that the health and safety of is patrons was "paramount".
The 10,000 sq ft trampoline park opened on 23 January. Since then there have been reports of accidents including a broken neck, back and other bones.
The company posted on its Facebook page on Tuesday evening that the park had been closed temporarily.
A Midlothian Council spokesman confirmed that Ryze Edinburgh had applied for an indoor sports entertainment licence.
"This is currently being processed in terms of the Civic Government (Scotland) Act 1982," he said.
"We are continuing to work with Ryze Edinburgh to investigate and resolve this licensing issue. Responsibility for obtaining the appropriate licence rests with the applicant.
"Midlothian Council requested information from Ryze Edinburgh as part of the licence application process and this was not forthcoming. In light of this position, the council continues to work with Ryze Edinburgh to resolve this matter.
"Staff training is a matter for Ryze Edinburgh. A licence will not be issued until Ryze Edinburgh have fully complied with the licensing requirements."
Marion Dickie, 35, from Edinburgh, whose two-year-old son Anderson sustained a bad break below the knee at the centre last week, told the BBC Scotland news website she thought it was right that the centre had closed.
She said: "I'm glad that there is an investigation and that it should be closed while it takes place.
"I would like to see it reopened if the first aid was upped. It should not be open in its current state.
"We won't be going back as it does not have nice memories for us."
Last week Ryze said its accident figures were "better than the industry norm" and that it was "very important" to put the figures into context, as the incident rate represented only 0.39% of the 25,662 jumpers over the three-week period.