Ladyboys of Bangkok lose Meadows site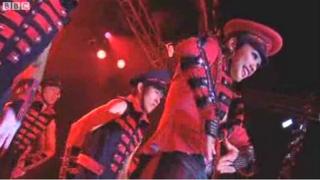 One of the Edinburgh Festival's best loved shows has lost its prime spot on the Meadows after 17 years.
The Lady Boys of Bangkok has been pipped by promoters Underbelly after the council introduced a tendering process to generate more revenue for the lucrative site.
The council said it expects to make more money to re-invest in the Meadows and other parks across the city.
It said it wanted to get the best deal possible for leasing the site.
'Much welcomed'
Lesley Hinds, Edinburgh's environment convener, said: "The council's tender process is a fair and rigorous assessment and Underbelly will still be required to apply for the use of the Meadows event site.
"The tender took place because we want to make sure the council receives the best deal possible for leasing the site during the city's busiest time of year.
"More money is expected to be raised and will be re-invested in the Meadows and other parks, which is much welcomed."
An Edinburgh City Council spokeswoman, said: "The council engaged in a competitive tender for use of a site within the Meadows as an event space during this year's summer festival period.
"Tenders were required to offer a balance between the city's events programme and the use of the Meadows for recreational users and each bid was considered equally.
"It is expected much of the money raised will be re-invested into improving the Meadows as a green space within the city."
'Increased revenue'
Heather Goodare, convener of Friends of the Meadows and Bruntsfield Links, said: "It is a great step forward that a reasonable market rent has been secured for the use of this site, instead of the very inadequate rent paid in previous years.
"It is still not clear how long events will be allowed to stay.
"The problem in previous years has been that events have lasted for a month, instead of 15 days, as in all the other Edinburgh parks.
"After a fortnight of an event of this kind, sadly, the grass dies, and reinstatement is a problem.
"This site cost over £100,000 last year for the drainage to be renewed.
"Inevitably any event will cause some damage. We in Friends of the Meadows are concerned that any damage will be kept to the absolute minimum, and that the increased revenue will be reinvested in proper services on the Meadows, especially in the summer.
"This is when we need park rangers' hours to be extended to the evenings, when anti-social behaviour after excessive drinking tends to spoil the enjoyment of the public of a wonderful green space, which we need to treasure and conserve for future generations."