Armed jewellery thief hijacks taxi with passenger in Edinburgh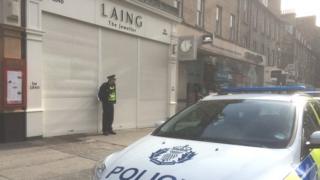 An armed thief hijacked a private hire taxi after robbing an Edinburgh jewellers at gunpoint.
The man entered Laing the jewellers in Frederick Street with a handgun at 09:30 and took between 12 and 15 Rolex watches worth £100,000.
Police said the thief tried to hijack a black taxi and a van, before getting into the front passenger seat of a private hire cab in Hanover Street.
There was a passenger inside. He forced the driver to take him to Pilton.
The passenger was a 19-year-old student. No-one was hurt in the incident.
'Badly shaken'
Staff had been opening up the shop when the thief entered and threatened them with a gun. He demanded they fill a bag with watches from the window before he ran off along Rose Street.
A member of staff followed and the thief tried to hijack a black taxi and a van in Rose Street South Lane but those drivers resisted.
He then jumped into the front seat of a private hire cab as it was driving off with the passenger in the back seat.
The thief was last seen when he got out of the vehicle in Pilton Drive North at its junction with Royston Mains Crescent.
He is white, in his early 30s, 5ft 10in tall and was wearing a dark padded hooded jacket, blue trousers and a blue and white scarf covering part of his face. He was carrying a black and white rucksack.
Police appealed for witnesses.
Det Sgt Raymond Gray, of Police Scotland, said: "This robbery left the staff badly shaken but thankfully unhurt.
"We are keen to hear from anyone who may have seen the man, or has information about the crime, so that we can trace him as soon as possible."