Man attacks father and son at Edinburgh's Haymarket station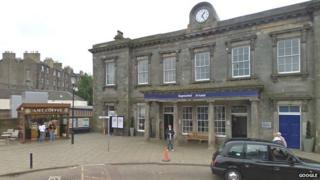 A man who punched a father and head butted his son causing a tooth to fall out at an Edinburgh train station is being sought by police.
The attacks happened at Edinburgh Haymarket station on Saturday at 22:20.
A row broke out after the father, aged 60, bumped into another man on platform four. His son, 21, tried to intervene but was head butted.
His father was then punched by the man, which resulted in a cut to the top of his head.
Several members of the public who had been waiting on the platform at the time also intervened - before the suspect boarded the 22:25 service to Helensburgh Central. He was wearing a blue jacket.
British Transport Police have appealed for witnesses.