A different vision: Portraits of people with sight loss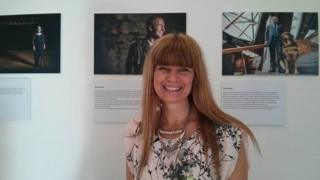 An exhibition of portraits of blind and partially-sighted people living in Scotland has launched in Edinburgh.
Its subjects include politicians, cafe managers and authors.
The Royal National Institute of Blind People (RNIB) Scotland said that Connecting Visions aims to challenge perceptions of people with sight loss as "passive and dependent."
Visitors will also be able to try on special spectacles that simulate different sight loss conditions.
Photographer Trudy Stade was inspired to start the project after watching the comedian Jamie MacDonald, who is blind, perform.
"I realised his talent immediately and found myself chatting away to Jamie after the show," she said.
It was after this that Ms Stade came up with the concept of portraits that challenged the misperceptions, "including [her] own", that people affected with sight loss experience every day.
"I didn't want to push aside the difficulties or frustrations of those living with little or no sight, but capture the essence of who they are through empowering and positive images. The photographs are shot in locations that express their personal determination, dignity and passions," she said.
RNIB Scotland said the exhibition is "interactive", in that visitors will have the chance to try on glasses that allow them to experience what it might be like to see the portraits with one of six different types of eye condition.
The subjects cover a wide range of people - as well as Mr MacDonald, Dennis Robertson, the MSP for Aberdeenshire West, is featured, as is Annette West, who runs her own cosmetics company.
Ms West told BBC Scotland: "I'm quite honoured to be asked to have my photograph in this exhibition, because I feel that when you have a sight problem, the world around you tends to close in.
"And my perception is that I'm still part of the world, I'm still in the world, and now people can actually see me."
Ken Reid is a previous chair of the Royal National Institute of Blind People Scotland. He told the Edinburgh Reporter in 2012: "I want to demonstrate that being blind is not the end of the world. It's a life sentence but not a death sentence."
Another one of the subjects, Insight Radio producer and presenter Jill Daley, said: "This exhibition is more about what people with sight loss can, rather than can't, do. Even I was astounded at what some of the people photographed here have achieved, despite sight loss."