Ian Macdonald admits murder bid on 86-year-old in Corstorphine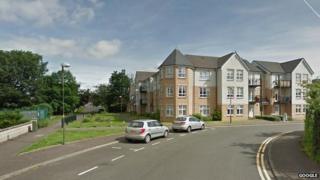 A man who stabbed an 86-year-old in the neck as he walked home from a supermarket in Edinburgh has admitted attempted murder.
Ian Macdonald, 55, said "I am very sorry about this" before severing Eric Martin's jugular vein in the attack.
After the stabbing on Gylemuir Road on 1 December, Macdonald then said: "I shouldn't have done that."
A judge was told Macdonald did not suffer from any mental disorder and offered no explanation for the attack.
Advocate depute Lisa Gillespie said at the time of the assault Mr Martin, a retired engraver, was in good health and was fit and active.
He was used to walking twice a week to a supermarket in Corstorphine to buy groceries before returning home.
Neck and body
On the day of the attack he was walking home from the store when he became aware of Macdonald walking towards him.
The prosecutor said: "He did not know the accused. The accused said 'I am very sorry about this' or words to that effect, before stabbing the victim repeatedly to the neck and body."
Mr Martin tried unsuccessfully to push him off but fell to the ground where Macdonald continued to knife him.
A witness got out of his van and approached to find Mr Martin was now lying motionless on the road, bleeding from a neck wound.
Macdonald stopped the attack and told him: "I've stabbed him." He then added: "I'll need to phone the police. I shouldn't have done that."
The witness told Macdonald he would call the police and told him to stay where he was, which he did.
The man and another passerby tried to help the attack victim. Ms Gillespie said: "Both observed that the accused appeared very calm at this time."
"The accused gave an account of waking that morning as usual, taking a knife from the kitchen drawer and leaving the house with the intention of visiting a local park.
"On leaving his house he had seen the victim, whom he did not know, and had stabbed him. He offered no explanation for his conduct," said the advocate depute.
'Perplexing case'
Unemployed Macdonald, who lived alone in Gylemuir Road, proceeded to gave a similar account to a psychiatrist who found no signs of mental illness.
Mr Martin was treated at hospital for wounds to his neck and chest. The severed ends of the jugular vein were tied to stop bleeding. He was let out of hospital nine days later.
The prosecutor said the wound to the jugular vein was "life-threatening".
Defence solicitor advocate Brian Gilfedder said: "It is a very unusual and perplexing case."
A judge deferred sentence on Macdonald, who has never been jailed before, for a background report.
Lady Wise told him: "You have pled guilty to an extremely serious attack on an 86-year-old man - a stranger to you - in the street."
She remanded Macdonald in custody until his appearance next month for sentencing.