Aerial 'drone' firm Cyberhawk to expand overseas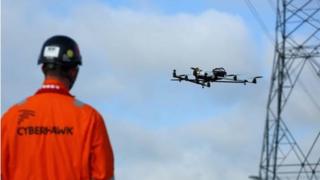 A Scottish firm which uses unmanned drones to inspect oil rigs and industrial sites is to expand its operations overseas.
The Livingston-based Cyberhawk Innovations plans to appoint staff to grow its business in the Middle East and South East Asia.
It is the next stage of expansion which has seen the firm take on more than 40 staff over the last year.
Cyberhawk has remotely operated aerial vehicles (ROAV).
They are used to carry out close visual and thermal inspections of industrial assets such as gas flares, utility transmission towers and wind turbines.
The company also offers aerial land surveying for the oil and gas, utilities and renewable energy sectors.
In recent years, increasing numbers of drones have been used for so-called 3D inspection jobs - "dirty, dangerous and dull".
Craig Roberts, Cyberhawk's CEO, said: "Our offices in Kuala Lumpur and Abu Dhabi are key to effectively serving our rapidly growing customer base in the Middle East and South East Asia.
"While the use of ROAV technology is becoming well established in the UK and Europe, interest in the methodology is rapidly increasing in other parts of the world, particularly within the oil and gas and utilities markets."
In 2013, Cyberhawk Innovations secured £1.25m from venture capital firm Scottish Equity Partners and the Scottish Investment Bank.