Lady Boys of Bangkok move to Fountainbridge site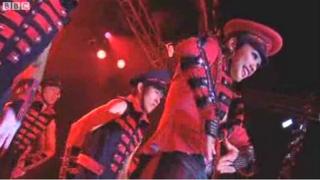 One of the Fringe's bestselling and longest-running shows has found a new site after losing its prime spot on the Meadows.
The Lady Boys of Bangkok will be moving to the Fountainbridge Brewery site, two acres of derelict land formerly used by the NoFit State circus.
It lost the Meadows location to promoters Underbelly after the council introduced a tendering process.
The Lady Boys of Bangkok can apply for the Meadows site again in two years.
Phillip Gandey, Lady Boys of Bangkok founder and promoter, said: "We are aggrieved by the whole tendering process over the Meadows site and would have preferred to have remained there this year.
"We are, however, delighted that we are able to come back to Edinburgh this year as the Lady Boys started at the Fringe and now perform around the world."