Robert Buczek sentenced for Eleanor Whitelaw murder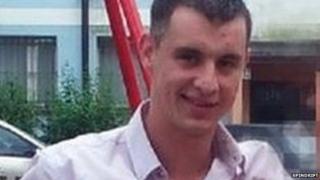 A 24-year-old man who murdered an 85-year-old woman after an attack in her Edinburgh home must serve at least 20 years in jail, a judge has said.
Robert Buczek killed Eleanor Whitelaw, known as Norah, by stabbing her seven times in the neck with a pair of scissors on 11 July 2014.
The pensioner died in hospital 17 days after the "brutal" attack.
Buczek, a Polish national, had denied attacking Mrs Whitelaw in her Morningside home.
It emerged last month that Buczek already had a previous conviction for assaulting and robbing another pensioner in Poland when he was only 14.
Sentencing him for the Morningside murder, judge Lord Matthews said: "On the 11 July 2014, a hot summer's day, Eleanor Whitelaw offered you, a stranger, some water, and told you that her husband would be back with some biscuits.
"It may be that they (the family) can perhaps draw some comfort, even take pride, in the fact that Mrs Whitelaw's last act was to extend a helping hand, but they will surely never come to terms with the fact that it was cruelly turned aside."
The judge said Buczek had not shown one "iota of remorse" for the "brutal and senseless" crime.
During sentencing at the High Court in Stirling, Buczek was given a mandatory life term and told he must serve at least 20 years before he could apply for parole.
Nicky Patrick, procurator fiscal for High Court cases in the East of Scotland, said: "Robert Buczek carried out a cowardly brutal attack on a vulnerable pensioner that has left family and friends devastated at the loss of a loved one.
"Taking the life of another is the most serious crime and must therefore come with the most serious consequences as today's sentence demonstrates."
The court had earlier heard that during the attack on Mrs Whitelaw, in her Morningside Grove home, the 85-year-old fell to the ground, fracturing her skull.
Labourer Buczek then dragged her along the hallway and dumped her in another room.
He then prowled round the house rummaging in cupboards and drawers before leaving with an envelope of stamps and a box containing spoons.
The trial heard from forensic experts who found DNA matching Buczek's on a pair of bloodstained scissors and a water bottle.
During evidence, the 24-year-old told the jury he had never been to the house and had "no idea" why the scissors and bottle with his DNA were found there.
However, a jury of 10 men and five women returned a unanimous guilty verdict in February.
Mrs Whitelaw's son, Professor Bruce Whitelaw, is head of developmental biology at the Roslin Institute, where Dolly the Sheep was cloned.
Det Ch Insp Keith Hardie, of Police Scotland, said: "I share the view of the family who don't even consider him to be a human being.
"They don't like to consider that another human being was able to do that."
Mr Hardie said Buczek had intended to rob Mrs Whitelaw, but added "we'll probably never know" why he killed her.
He said: "It makes it even more despicable that Mrs Whitelaw was offering the hand of human kindness to Buczek."