Edinburgh International Festival woos a younger audience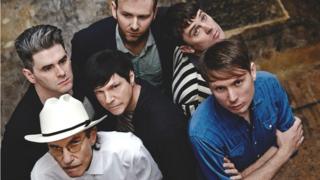 If the details announced so far hadn't convinced you, the new director of Edinburgh International Festival is out to woo a younger audience.
Or at least a middle aged audience, who would know French actress Juliette Binoche from The English Patient and be keen to see her onstage in a new version of the Greek tragedy Antigone.
Or would thrill at the notion of Franz Ferdinand collaborating for one late night performance with their heroes Sparks.
Or indeed any of the diverse late night music performances in the Hub.
The date change, moving back in line with the fringe, also sends out a signal that their audience is one and the same.
The free opening event, with music and light projections on the side of the usher hall will not only give the fringe a run for its money, but like the closing fireworks concert, prove this is a festival for everyone.
You don't need a to sit inside a concert hall to enjoy it.
There's even an additional family concert, ahead of the closing fireworks concert.
Convincing regulars
Younger audiences are targeted with productions like The Magic Flute which combines opera and animation, and the superb National theatre of Scotland show Dragon which uses puppetry and other wizardry to tell a universal tale.
It is not just new audiences. Many of the fresh faces are performers.
As well as Binoche, Anne Sophie Mutter, Lang Lang and Enda Walsh will all make their international festival debuts this year.
But is there enough to convince regulars, young or old? It certainly seems so.
The trail blazing choreographer Alain Platel found inspiration in brass bands and hopes to bring as many as possible together for his show.
Robert Lepage will perform himself during the European premiere of his latest work.
And there will be a new production of The Alasdair Gray novel Lanark.
Director Graham Eatough and writer David Greig admit it is an idea they first discussed at university more than 20 years ago.
Although there has been a production of Lanark at the festival before - by TAG theatre back in 1995 - there will be considerable interest in what Suspect Culture do with this challenging novel.
It is no easy challenge winning over a new audience. Every arts organisation on the planet - including the Fringe - is working on it.
From cut price tickets, to late night concerts, it has all been tried.
But as long as the Edinburgh International Festival can take its loyal older audience too, it may just be onto a winner.