Jordan Mackay death: Jack Mallon guilty of murder in South Queensferry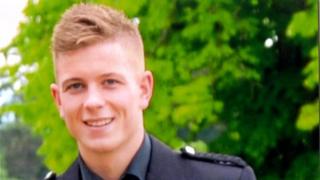 A man has been found guilty of murdering a 20-year-old joiner who was on a night out in South Queensferry with his girlfriend.
Jack Mallon, 47, from Winchburgh, stabbed Jordan MacKay, from Kirkliston, in the neck on 13 July 2013.
Mallon's former girlfriend, Charlene Wilson, 37, from Kirkliston, was convicted of killing the victim on a reduced charge of culpable homicide.
Sentence was deferred until next month and they were remanded in custody.
The pair had both denied murdering Mr MacKay in the attack at The Loan.
Arrived by car
Mallon had lodged a special defence claiming he was acting in defence of himself and his co-accused, during their trial at the High Court in Edinburgh.
Mr MacKay and his girlfriend had been out socialising in the town beside the Forth where Wilson was also drinking. Mallon later arrived in South Queensferry by car after Wilson contacted him.
Wilson had been at the Stag's Head in South Queensferry's High Street and had shouted at Mr MacKay's girlfriend who "laughed it off", the court heard.
One witness said as they were leaving the pub Wilson tried to slap Mr MacKay.
Outside the bar Wilson was arguing with people.
A witness said Wilson had made a threat to get Mallon down to carry out a stabbing.
Prosecutor Iain McSporran said to Wilson: "If it had not been for you Jordan MacKay would still be alive, wouldn't he?"
Wilson said: "I made a phone call but not for that to happen. I never got him to come down to do that."
She said: "I presume I was angry and probably upset and embarrassed, obviously because I was getting called names and things. So I probably did phone him because I wanted support, but I definitely would not want him to kill or stab anybody."
The judge, Johanna Johnston QC, told Wilson and Mallon: "Each of you has been convicted of criminal responsibility for the death of Jordan MacKay."