Andrew Harvey admits causing Christopher Gilruth's death in Edinburgh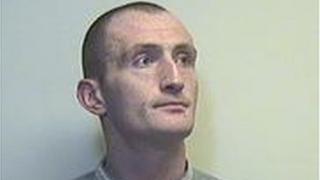 A carer who killed a man he was paid to look after at the Edinburgh home they shared has admitted responsibility for causing his death.
The body of Christopher Gilruth, 53, was found in the flat at Roseburn Terrace on 11 May 2014.
Andrew Harvey, 34, pled guilty to culpable homicide at the High Court in Edinburgh.
Mr Gilruth died in a bathroom having sustained numerous injuries to his face, head and body.
The judge, Lady Wolffe, adjourned the case and ordered that Harvey should be detained in custody before sentencing next month.
Health problems
The court had heard how Harvey repeatedly punched Mr Gilruth who fell and struck his head.
Mr Gilruth had 33 injuries, mostly bruises and abrasions and some cuts. He also had extensive rib fractures, but they could have been caused during attempts at resuscitation.
The victim and Harvey referred to each other as "uncle" and "nephew" although they were not related.
Mr Gilruth had serious health problems and had emphysema.
Advocate depute Jim Keegan QC told the High Court in Edinburgh: "He could have died from respiratory failure at any point."
The prosecutor said Mr Gilruth was vulnerable because of his health issues and "far more likely to succumb to injuries that would not prove fatal in a healthy adult male".
Defence counsel Brian McConnachie QC said Harvey had never been jailed before and a background report would be required before sentencing.
Det Insp Raymond Brown, of Police Scotland, said: "Christopher Gilruth was a vulnerable individual who had various health problems but gave Andrew Harvey a home and treated him like a member of his family.
"Despite this, Harvey betrayed Mr Gilruth's trust and goodwill by subjecting him to a significant level of violence that ultimately led to his death.
"Police Scotland are committed to bringing those responsible for crimes of violence to justice and I hope that Christopher Gilruth's family can find some comfort in today's guilty plea, for which we now await sentencing by the court."