Funeral held for Scots soldier Shaun Cole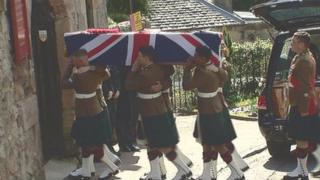 The funeral of a soldier who died in a suspected hit and run while on holiday in Florida has been held.
Pte Shaun Cole, 22, from Edinburgh, had been attending the Ultra Music festival in Miami with two friends when he died.
It was reported that his body was found on a pavement on 29 March and that he died as a result of a head injury.
He was laid to rest with full military colours at Colinton Parish Church in Edinburgh.
Major Nick Colquhoun from the 1st Battalion The Royal Regiment of Scotland paid tribute to Pte Cole, who was serving with the Royal Scots Borderers.
He said: "Pte Shaun Cole was a highly capable, experienced and professional young soldier.
"Pte Shaun Cole achieved an extraordinary amount in his short military career.
"Pte Shaun Cole was an immensely popular soldier and his loss has left a gaping hole in the whole of the 1st Battalion The Royal Regiment of Scotland.
"At this time our thoughts and prayers are very much with his family, his loved ones and his friends."
Police in the US said the former Tynecastle High School pupil had suffered a blunt force trauma to the head.
Pte Cole had recently returned from serving in Sierra Leone, where he was helping in the fight against Ebola.