Scott Macintosh jailed for attempted murder of Kate Lampitt-Adey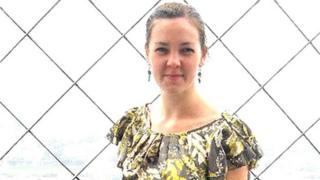 A man who attacked and strangled a woman who dumped him after a short relationship has been jailed for nine years.
At the High Court in Livingston, Scott Macintosh was found guilty of attempted murder.
He had denied carrying out the attack on art graduate Kate Lampitt-Adey, 26, in her Edinburgh flat in August.
Macintosh, from Leith, claimed in his defence Miss Lampitt-Adey already had the injuries when he got to her flat.
The photographs, taken by a police officer an hour after the assault, show her entire face swollen and bruised.
Her eyes were badly bloodshot and fingertip bruises on either side of her windpipe could be seen where Macintosh, 36, repeatedly tried to choke her.
Police called to the scene by neighbours who heard her strangled screams for help were also attacked by the accused.
Officers found Miss Lampitt-Adey barricaded in a room in her Easter Road home "cowering" behind a bed.