Dundee players to stand trial over 'ice hockey brawl'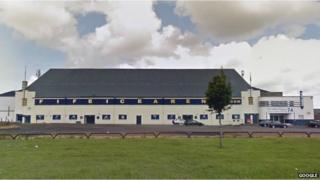 Two ice hockey players are to stand trial accused of trying to start a brawl at a match.
Dundee Tigers players Marc Crighton and Marc Leggatt face charges of behaving in a threatening or abusive manner and challenging others to fight at the tie with the Kirkcaldy Kestrels at the Fife Ice Arena in 2013.
Crighton is also alleged to have assaulted two opponents.
Both men pleaded not guilty and will face trial at Kirkcaldy Sheriff Court.
The pair are accused of acting in an aggressive manner and making threats of violence at the Scottish National League match in November 2013.
Crighton, 27, is accused of assaulting opposing player Jay Duncan by pushing him to the ground and struggling with him, causing severe injury, permanent disfigurement and permanent impairment.
He is also charged with assaulting Connor Baxter by seizing him by the body and pushing him against a door.
Crighton, of Dundee, and Leggatt, 24, also of Dundee, appeared on indictment at Kirkcaldy Sheriff Court.
Sheriff James Williamson continued the case for trial later this month.