Knife attacker who scarred fiancée for life jailed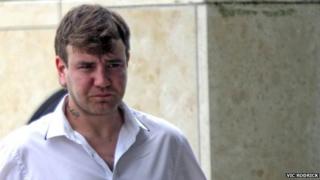 A man who scarred his fiancée for life in a knife attack and threatened to kill her has been jailed for almost six years.
Joshua Cantlon used a blade to stab in the direction of Sian Fulton's neck but missed.
He did cut Ms Fulton several times and stabbed her in the right hand, leaving a permanent scar.
Cantlon, 21, from Broxburn, West Lothian, was on bail at the time for assaulting an ex-partner.
He was originally charged with two assaults and attempting to murder Ms Fulton. However, he pleaded guilty to a reduced charge of assault to severe injury and permanent disfigurement.
He has previous convictions for domestic abuse and for assaulting a seven-month-old baby and has just completed an 18-month prison sentence for assault to severe injury and permanent disfigurement.
At the High Court in Livingston, Cantlon was given a nine year extended sentence, including a jail term of five years and nine months and three years and three months on licence.
Brutal attack
Cantlon earlier pled guilty to attacking his fiancée Ms Fulton in his home at Cardross Road, Broxburn, after a night out in July last year. He grabbed her by the neck and headbutted her on the forehead before punching her on the eye, fracturing her cheekbone.
He then seized hold of her hair and dragged her into the hallway, before going into the kitchen and returning with a knife in his hand. He forced his way into the bathroom where she had taken refuge and shouted at her that he was going to slit her throat and kill her.
Cantlon repeatedly tried to stab her on the face and throat with the knife but slashed her on the arm instead as she desperately put her hands up to defend herself. Cantlon continued to strike at her with the weapon, cutting her on the hands as she tried to protect her face.
She lost consciousness several times as a result of his extreme violence, and came round at one point to find him kicking her back and her ribs. Cantlon then stopped his frenzied attack and began to apologise for his behaviour.
He threw a bag of clothing at Ms Fulton, grabbed her by the throat and threw her out of the house. When police officers arrived, they found a bloodied knife in Cantlon's kitchen sink and arrested him.
Ms Fulton suffered cracked ribs, a fractured cheekbone, a puncture wound on her right hand and numerous cuts on her hands, neck and arm.
Gerry Considine, defending, claimed Cantlon - who had been drinking and smoking cannabis that evening - had no recollection of the incident.