Candlelit vigil in Edinburgh gives support for Nepal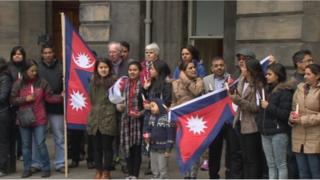 A candlelit vigil has been held in Edinburgh to show support for the people of Nepal.
The Nepal Scotland Association said many of its members lost friends and loved ones in the devastating earthquake last weekend.
The event was held outside the City Chambers on the Royal Mile.
It was organised by Mercy Corps with help from the Nepal Scotland Association and the city council.
A charity concert to raise money for the relief effort was also held in the city.
The Singing Bowl Concert, considered to be the ancient sound of Nepal, was held at St Giles' Cathedral.