Spartans appeal after fire at supporter's home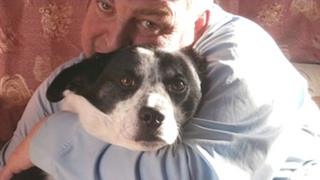 Spartans Football Club has launched an appeal to raise money for one of its supporters who lost his home and pets in an Edinburgh fire.
Garry Betts, also known as Grim O'Grady, lost his family dog Buster and his cats in the fire in Crewe Terrace on Thursday.
Mr Betts runs three disabled football teams at the club.
Craig Graham, Spartans chairman, said: "Grim is a fantastic volunteer around the club so we want to help him."
He added: "This is dreadful news."
'Lost everything'
John McCabe, Spartans club secretary, told the BBC Scotland news website, how Mr Betts was at the club when he heard the news of the fire.
He said: "Grim saw smoke in the distance and made a joke saying 'I hope it isn't my house' and then five minutes later his son phoned and said it was their house on fire.
"He was in an awful panic as he was worried about his pets.
"His whole house is gutted and his family only have the clothes on their backs, they have lost everything else.
"He is such a great man that we felt we must help him in any way we can so he can buy food and clothes and pay for accommodation."
He added: "We have had a big response from the community in just 12 hours with donations and even Central Taxis has given him taxi vouchers so he can get around during this hard time.
"He does so much for people in north Edinburgh that they want to help him."
The football club started the collection with a contribution of £500 and a Just Giving page set up has now had almost £3,500 worth of donations.
The Scottish Fire and Rescue Service said it was still investigating the cause of the fire.